Keynote presented at the Stahl2016, hosted in the Convention Center Düsseldorf
M. J. Neuer
The german VDEH hosts a yearly recurring industrial congress called "Stahl". During this event, several steel specific topics are discussed in talks and so-called steel dialogue. 
Our BFI team presented several exciting new research efforts to improve the European steel production and to introduce novel technologies such as semantics, service-oriented architecture, flying drones for inspection, novel measurement approaches, optimization techniques (e.g. agents) and latest process modelling.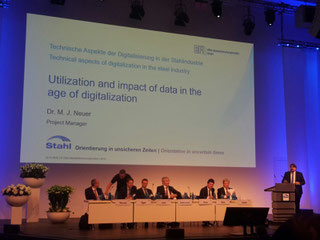 At this occasion, it became apparently clear that there is a big lack of information about how-to actually implement things like digital twins or object-based data management at a concrete plant. To shed a light on that issue, we tried to analyse what steps are necessary to bring Industry 4.0 concepts to life: a) on the management level, b) regarding the infrastructure and c) considering the expert knowledge both in fields of data analytics and, of course, the process knowledge about the production stages.
Role of algorithms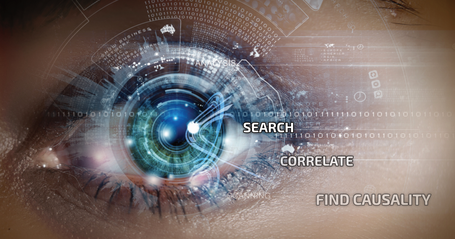 Algorithms help to interprete data. They allow to learn interrelationships and to conclude about root causes of production failures. In the longterm, they help to actively prevent product deficiencies and to raise the economic profits.
But there algorithms that can even interact with the production itself. They allow virtual products, as e.g. virtual coils to talk to smart production machinery. With this ability a true self-optimisation and self-organisation can be realized, improving the overall plant performance.
Location
Congress Center Düsseldorf (South)
Email: marcus.neuer(at) bfi.de
Impressions